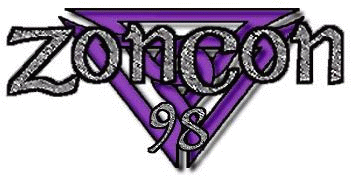 October 2nd-4th, 1998
Best Western Hotel and Conference Center
Baltimore, MD
Hotel: 410-633-9500 or 800-633-9511 (be sure to say "ZonCon" when making reservations)
ZonCon is a nonprofit, fan-run convention focusing on science fiction/fantasy.
Hudson Leick

We are proud to present our latest guest, Hudson Leick, known for her role as Callisto on Xena Warrior Princess.
Heather Alexander

Official Bard of ZonCon '98, Celtic singer and songwriter
Carmen Carter
We'd like to announce, Carmen Carter, Star Trek author and writer.
Inge Heyer
She is the woman behind the space images seen on B5 and DS9. We are glad to have her with us!
Mira Furlan

We are sad to announce that Mira Furlan has cancelled her appearance this year for personal reasons. &nbsp She was looking forward to being in Baltimore and sends her regrets that she will be unable to appear at this year's convention.

We are in the process of finding another guest to appear in her place. &nbsp Look for Mira at ZonCon '99!
All guest appearances are confirmed barring professional commitments.

Not able to join us at ZonCon '98? Or you'd like to be contacted for Zoncon '99.

Join our mailing list and we will keep you updated.
&nbsp
&nbsp
&nbsp
Produced by X&G Rule Together Productions Copyrights 1998.